La densitometría corneal aumenta con la edad, según un estudio multicéntrico de Innova Ocular | Innova ocular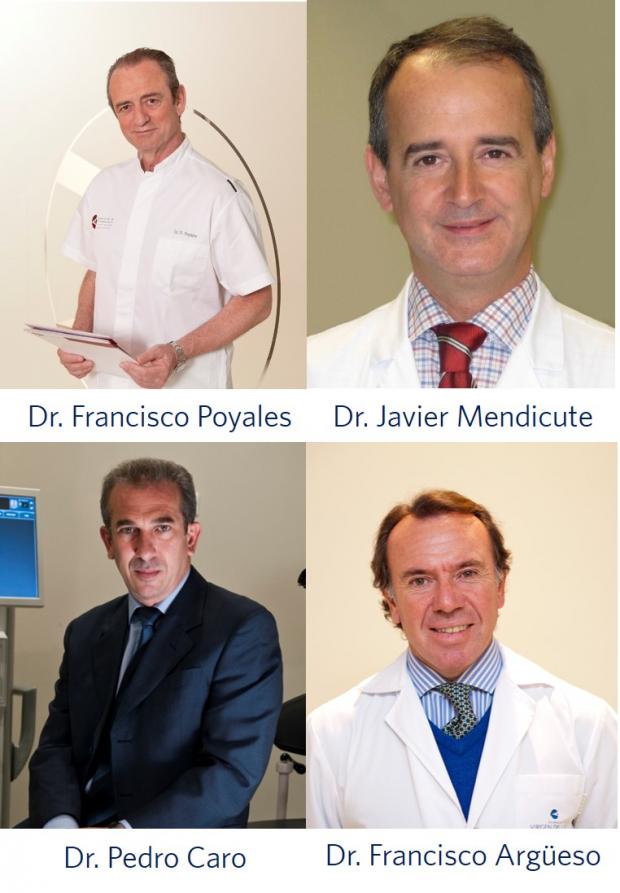 LA INVESTIGACIÓN ACABA DE PUBLICARSE EN INTERNATIONAL OPHTHALMOLOGY
El trabajo, titulado "Densitometría corneal y su correlación con la edad, paquimetría, curvatura corneal y refracción", ha sido desarrollado por especialistas de las clínicas de Innova Ocular de Madrid, San Sebastián, Cádiz y Sevilla gracias a las mediciones aportadas por el último software de sistema Oculus Pentacam
Jueves, 17 de noviembre de 2016 (Madrid) – La densitometría corneal aumenta con la edad, pero la queratometría corneal y los parámetros refractivos no afectan la dispersión de la luz en la córnea humana, según concluye un trabajo realizado por especialistas de las clínicas de Innova Ocular de Madrid, San Sebastián, Cádiz y Sevilla, y que constituye el primer estudio de valores de densitometría corneal normativa relacionada con la edad medidos con el último software de sistema Oculus Pentacam en el que se han tenido en cuenta la queratomía y el equivalente esférico.
La investigación, titulada "Densitometría corneal y su correlación con la edad, paquimetría, curvatura corneal y refracción", acaba de publicarse en International Ophthalmology (The International Journal of Clinical Ophthalmology and Visual Sciences) y ha sido realizada por los doctores Francisco Poyales, Javier Mendicute, Pedro Caro, Francisco Argüeso, Nuria Garzón, Igor Illaramendi, Óscar Jáñez y Alfredo López, directores médicos los primeros cuatro de las clínicas Innova Ocular IOA Madrid, Innova Ocular Begitek, Innova Ocular Oculsur e Innova Ocular Virgen de Luján, y optometristas de dichas clínicas, respectivamente, los últimos cuatro.
Tal y como explican sus autores, el objetivo de este estudio fue determinar la densitometría corneal normativa en relación con la edad, el sexo, el espesor corneal, el error de refracción y la queratometría en un gran grupo de participantes, medida con el topógrafo de última generación Oculus Pentacam, ya que hasta el momento no existían estudios previos sobre la densitometría corneal en relación a la morfología corneal o la refracción en sujetos sanos.
Población de estudio
Para ello se sometió a un examen ocular exhaustivo a un total de 338 sujetos sanos (185 hombres y 153 mujeres) de las citadas clínicas de Innova Ocular, ninguno de los cuales sufrían de enfermedad o afección ocular alguna ni se había sometido a una cirugía refractiva previa.
Las mediciones realizadas en la población del estudio incluyeron refracción subjetiva con y sin agentes cicloplégicos, presión intraocular, examen binocular, dominancia ocular, pupilometría fotópica y mesópica, topografía corneal, aberrometría corneal y evaluación de la calidad óptica y de los polos anterior y posterior.
Según indican los investigadores, los resultados confirmaron diferencias estadísticamente significativas entre hombres y mujeres en la densitometría corneal media sobre el área total. Asimismo, cuando la córnea se dividió en capas de diferentes profundidades, se detectó una correlación significativa para todas las capas y edad en los niveles anterior, central y posterior. Sin embargo, al dividir la córnea en diferentes anillos concéntricos a partir del centro de la misma, la densitometría se correlacionó claramente sólo con la edad en los anillos de 6-10 mm, mientras que ni la queratometría media ni el equivalente esférico se correlacionaron con la densitometría corneal en ninguna zona de la córnea, añadieron.