El Dr. Aramberri, de IO Begitek, analiza los retos más desafiantes en implantación de ICL junto a los mayores expertos mundiales en la materia | Innova ocular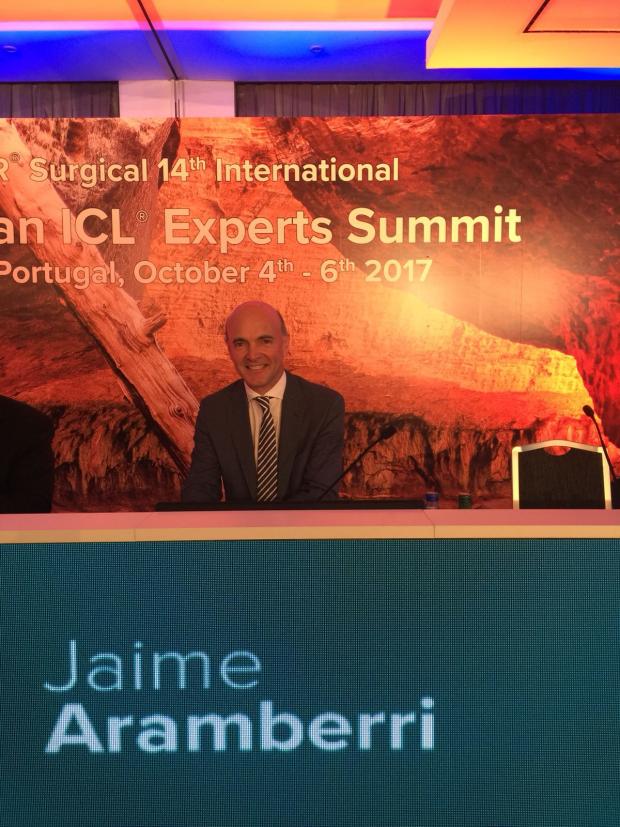 EL ESPECIALISTA DESTACÓ ENTRE LOS PONENTES INVITADOS A LA 14ª REUNIÓN INTERNACIONAL VISIAN ICL EXPERTS SUMMIT, RECIENTEMENTE CELEBRADA EN LISBOA
Poner en común la experiencia de los cirujanos con mayor y más relevante trayectoria a nivel internacional en la implantación de ICL y explorar un foro de debate en el que los especialistas puedan intercambiar puntos de vista y enriquecerse mutuamente es el fin con el que desde hace más de una década Staar Surgical celebra este encuentro anual al que sólo acuden los mejores especialistas en la materia, por estricta y personal invitación, dado el elevado nivel de sus asistentes
Miércoles, 18 de octubre de 2017 (Madrid) – El Dr. Jaime Aramberri, responsable de la Unidad de Cirugía Refractiva y de la Unidad del Cristalino de Innova Ocular Begitek (San Sebastián) destacó como representante de la red nacional de clínicas Innova Ocular en la décimo cuarta edición de la Visian ICL Experts Summit, una reunión internacional de expertos en lentes intraoculares ICL (Implantable Collamer Lens) organizada cada año por Staar Surgical y celebrada en esta ocasión en Lisboa, entre los pasados días 4 y 6.
En concreto, el oftalmólogo vasco presentó en el simposio "Getting to the bottom of challenging cases" una serie de interesantes casos y escenarios clínicos que debatió un grupo de expertos, y formó parte del panel de especialistas que lideró las mesas redondas "Meet the experts", unas sesiones muy interactivas en las que los delegados pudieron compartir sus experiencias y plantear dudas e inquietudes en pequeños grupos.
Como en anteriores ediciones, la Visian ICL Experts Summit tuvo lugar también este año de forma previa al congreso de la Sociedad Europea de Cirujanos de Catarata y Cirugía Refractiva (ESCRS), que celebró su trigésimo quinta reunión anual en Lisboa entre los días 7 y 11 de octubre.
Poner en común la experiencia de los cirujanos con mayor y más relevante trayectoria a nivel internacional en la implantación de ICL y explorar un foro de debate en el que los especialistas puedan intercambiar puntos de vista y enriquecerse mutuamente es el fin con el que desde hace más de una década Staar Surgical celebra este encuentro anual al que sólo acuden los mejores especialistas en la materia, por estricta y personal invitación, dado el elevado nivel de sus asistentes.
En esta ocasión, el listado se compuso de 189 cirujanos -58 de los cuales asistían por primera vez, con un importante crecimiento de especialistas jóvenes- procedentes de 37 países, entre quienes figuraron, acompañando al Dr. Aramberri, otros colegas de Innova Ocular, como el Dr. Alberto Villarrubia, responsable del Departamento de Segmento Anterior, Córnea y Cirugía Refractiva de Innova Ocular La Arruzafa (Córdoba).
El Dr. Aramberri ha recogido en las dos ediciones anteriores y en nombre de Innova Ocular sendos premios a la excelencia en ICL tórica para miopía y astigmatismo, otorgados por haber superado, respectivamente, el medio millar y las 5.000 lentes implantadas. Un año antes, en 2014, el Dr. Francisco Poyales, director médico de Innova Ocular IOA Madrid, hacía lo propio al recibir como representante del grupo el reconocimiento equivalente a la implantación de mil ICL, el Visian Toric 1000 Award.