El congreso europeo dedicado a la cirugía refractiva y la catarata cuenta con especialistas de cuatro clínicas de Innova Ocular | Innova ocular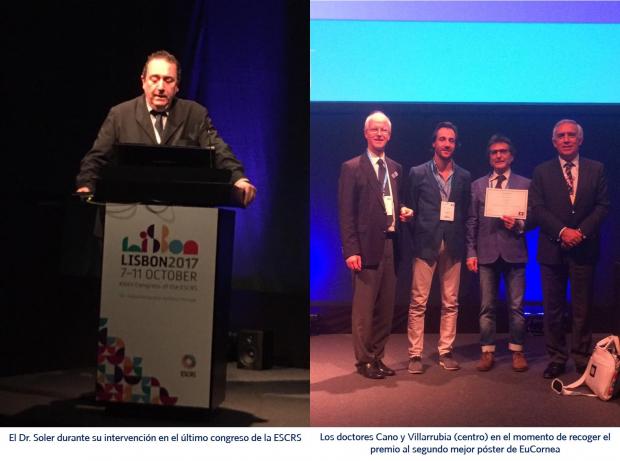 Varios expertos de los centros del grupo en San Sebastián, Madrid, Elche y Córdoba participaron en el XXXV congreso de la Sociedad Europea de Cirujanos de Catarata y Cirugía Refractiva (ESCRS), recientemente celebrado en la capital lusa
Jueves, 2 de noviembre de 2017 (Madrid) – Lisboa fue la ciudad elegida este año para acoger la celebración del XXXV congreso de la Sociedad Europea de Cirujanos de Catarata y Cirugía Refractiva (ESCRS, por sus siglas en inglés) y varios especialistas de las clínicas de Innova Ocular en San Sebastián, Madrid, Córdoba y Elche lo fueron igualmente para participar como destacados ponentes en la cita científica.
En concreto, el Dr. Jaime Aramberri, responsable de la Unidad de Cirugía Refractiva y de la Unidad del Cristalino de Innova Ocular Begitek, participó en dos cursos del programa oficial: el de técnicas en cirugía refractiva corneal: LASIK/PRK, dirigido por el Dr. Daniel Elies, y el de Cálculo de lentes intraoculares, que este año dirigió el Dr. Douglas Koch, de Houston (Estados Unidos).
Por otra parte, el especialista de la clínica vasca presentó por primera vez una ponencia en el Curso didáctico de cirugía ocular, uno de los principales simposios del congreso anual de la ESCRS, que tuvo gran afluencia de público y un debate muy interesante a su conclusión, donde ofreció algunos valiosos consejos para mejorar el cálculo de lentes intraoculares.
Igualmente, el Dr. Aramberri defendió también un vídeo titulado "We shall never surrender", co-producido con el Dr. José Mendes, de Guimaraes (Portugal), sobre la resolución de un caso complicado en cirugía de cristalino donde se presentaba una técnica novedosa de corrección de problemas de inclinación de las lentes intraoculares.
Su colega y director médico de IO Begitek, el Dr. Javier Mendicute, fue por su parte uno de los panelistas de la ponencia sobre tratamiento quirúrgico y soluciones de la presbicia a nivel corneal o lenticular, dentro del Simposio Luso-Hispánico dedicado al abordaje de esta afectación ocular.
Participación de Madrid
En cuanto a Innova Ocular IOA Madrid, fueron varios los expertos de la clínica invitados a la cita europea, empezando por su director médico, el Dr. Francisco Poyales, y siguiendo por sus colegas los doctores Blanca Poyales, Begoña Ortiz de Zárate y Ricardo Pérez, responsables de las unidades de Córnea, Diagnóstico y Cirugía Refractiva del centro madrileño, así como por la Dra. Nuria Garzón, Ester López-Artero (responsables, respectivamente, de la Unidad de Calidad Visual y del Departamento de Terapia Visual de la clínica), e Israel López-Brea, DUE responsable de quirófano de IO IOA Madrid.
Entre los trabajos presentados por estos especialistas destacaron los titulados "Visual performance and extended-depth-of-focus evaluation after Acriva Reviol Tri-ED IOL implantation", "Comparison of visual outcomes for aspheric trifocal and aspheric trifocal toric intraocular lens implantation in cataract patients", "Impact of the learning curve upon femtosecond-laser cataract surgery outcomes" y "Optical quality after ND:YAG-laser capsulotomy assessed with a double-pass technique".
Asimismo, los expertos de IO IOA Madrid también defendieron un trabajo sobre los resultados en el tratamiento del astigmatismo con la técnica Relex Smile y colaboraron en los titulados "In vivo measurement of longitudinal chromatic aberration in patients implanted with the FineVision Trifocal IOL" y "Correlation of clinical defocus curves with optical quality of multifocal intraocular lenses".
Elche y Córdoba
Por su parte, el Dr. Fernando Soler, director médico de Innova Ocular Clínica Dr. Soler, con sede en Elche, fue uno de los panelistas participantes en el curso sobre manejo del astigmatismo con lentes intraoculares tóricas.
Finalmente, los doctores Alberto Villarrubia, Antonio Cano y Luis León, de la Unidad de Segmento Anterior, Córnea y Cirugía Refractiva de Innova Ocular La Arruzafa (Córdoba), presentaron el trabajo en póster "Cornea: Surgical Phototherapeutic Keratectomy (PTK) guided topography ablation as treatment for corneal irregular astigmatism".
Los doctores Villarrubia y Cano recibieron, además, el segundo premio al mejor póster presentado en EuCornea, la reunión específica sobre córnea celebrada cada año en paralelo al congreso europeo.